The Best Local Roof Replacement Company in Naperville, IL
Best Naperville Roofing Company
Naperville Promar Roofing is the best local roof replacement company serving our community on their residential homes and commercial properties since 2000.
Your Naperville Roofing Company
Naperville Promar Roofing is a highly trusted, professional, and reliable roofing company operating in Naperville & the surrounding suburbs for over twenty three years. 
With decades of experience to the Promar name, we have served hundreds upon thousands of households and businesses, who have nothing but good things to say about our expertise, straight forward, honest approach, high caliber customer service, and of course, quality craftsmanship and products. 
Offering the best roofing services in Naperville, you can rest easy knowing that Promar uses only the best quality roofing products with superior durability and are Illinois Roofing Code approved. And to give you further peace of mind, our experts are highly trained and have decades years of experience in the roof replacement industry. 
Naperville Promar Roofing offers impeccable customer service and quality craftsmanship. We're licensed, bonded, and insured – proudly serving the Naperville Roof community. We work hand in hand with you to help you match your homes architecture, your vision, and your budget. We're respected industry professionals, we get the job done right, the first time. Call us today to schedule your free roofing quote to see why we are one of the top roofing companies in Naperville, Illinois.
You love your home, but if the roof is looking worn down from the intense winter storms and spring rains, it may be time to consider a roof replacement. 
No matter if it's an industrial warehouses, a local school, or an apartment complex- Naperville Promar Roofing is ready to get you your new roof replacement quote. 
Storm Damage & Insurance Claims
We know rain, wind, and hail storms can cause severe damage to your property. We're here to help.  
We know roof replacement is an investment that'll last for many years to come. Learn more about your financing options. 
Best Local Roofing Company in Naperville
Why Choose Naperville Promar Roofing?
We're Your Trusted Local Roof Replacement Company Who Get The Job Done Right
(And Your Neighbors Love Us! ☆☆☆☆☆ Five Star Reviews across Google Reviews)
Here's What Our Client Say about Us
"If you want a local Naperville roofing company, these guys did an incredible job for shingle roof replacement. They are extremely professional, fair priced, and have an excellent crew. If I could give them 100 stars I would do so! Do yourself a favor and call Promar. You will be glad you did!"
They did a great job installing metal roof and aluminum gutters and soffit in my house. I would recommend them. They came out to give estimates and were very reasonable. Great service and work was done quickly without compromising quality. Would recommend to others, they're a great Naperville roofing company.
I've used Naperville Promar Roofing on 3 different commercial properties. The crew is great and they have always done good work at a competitive price. The new cedar shake roof looks outstanding and I'm delighted with the workmanship. I highly recommend them. They're the best roofing company I've worked with to date.
I like to do my research before I get quotes, and I'm glad I chose this local Naperville roofing company. Their honesty, clear communication, and affordable roof quote made them stand out from the rest. Very pleased with my new roof.
Our Awards & Achievements
Naperville Promar Roofing is your local Naperville roofing contractor. A family owned and operated business, we are among the top home remodeling and commercial roofing companies. 
Proudly serving the Naperville community since 2000 (that's over 23 years of industry experience!), we have great relationships and access to the best roof brands like GAF, top of the line roofing products, and we do our best to offer affordable roof solutions. We provide a smooth and stress-free roof replacement with decades of expertise to guarantee a job well done.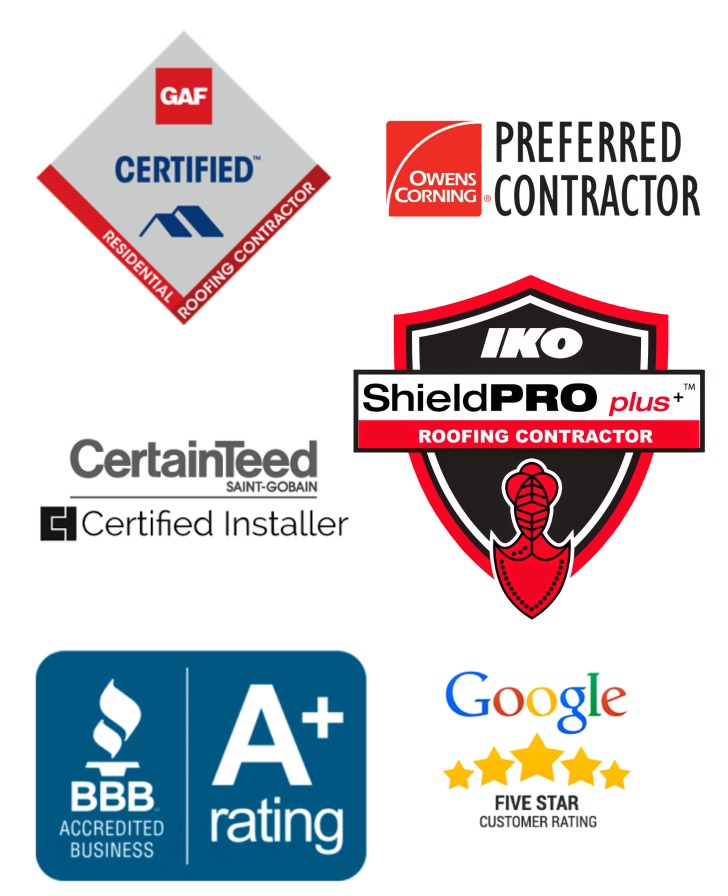 Request your FREE roof replacement quote with Naperville Promar Roofing today!